Welcome to Cooper River Adventures
We provide services for alligator hunting from your lodging before the hunt to your alligator appetizer and belt long after the hunt.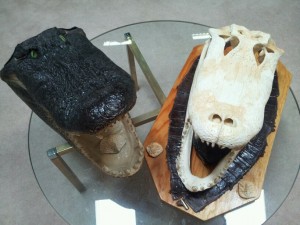 This webpage will give you general information on basic services, but every customer is different and your unique interests are considered when we customize a package for you. We offer great rates and service for equipment, processing, tanning, and tour guiding.  In addition, if you have a permit or just want to participate in a hunt we can accommodate up to 6 people including lodging.  Some of our services are contracted out to reputable companies. You are responsible for adhering to all SCDNR Laws regarding Alligator hunting.
Our most important concern is safety.
Equipment:
For sale and rent are high quality Bangsticks, 357 Powerheads, .44 Mag Powerheads, Penetrator Kits  at discount prices from BECO Inner Space Products
Also available fishing tackle, treble hooks, and snares.
Other equipment that can be used include crossbows, harpoons, and big game fishing tackle.
Processing:
Your choice of caped or skinned
Your choice of tail pieces, cubed, sliced, or sausage presented in meal sized labeled and vacuum sealed packages.
Guide Service:
We use a 24 ft Tritoon boat with 140HP engine. The front 1/3 of vessel is cleared of everything but the rails so as to have an open, spacious, and safe work area.  Day and night trips are available. Daylight hunting has benefits. We specialize in Zones 2 & 3, but not limited to other areas. Pricing starts at only $600.00.
Tanning and Taxidermy
Your personal preferences come into play as we offer belly skins in 5 standard colors (matte or gloss finish)
Gator Rug w/ head attached or Full Taxidermy
Head Taxidermy or Skull Mount (European Style) available
The Hunt
First consideration is you tell us what size gator you want to tag. Any size gator will put up an unforgettable great fight. Safety is always first. Our attack method varies with weather conditions, the gator himself and your choice of equipment.  Our favorite method is by bangstick where our attack and capture method is fast paced. Teamwork is required to snare the target and the permit holder gets the pleasure of dispatching with choice of 357 or .44 cal via bangstick powerhead.

You can count on an aggressive fight, but we tap them out quickly.
2010 results included an 11'8", 10'6", 8'6", and 8'3".
Questions, sales and reservations inquiries please call  843-324-3141  or e-mail
All prices and conditions are subject to change.